We will end RV roof leaks, once and for all
Click to get a quote
Repair
Fixing small leaks and sealing seals
Coating
When there are multiple leaks or loose rubber
Replace
When damage extends beyond the rubber, such as rotten wood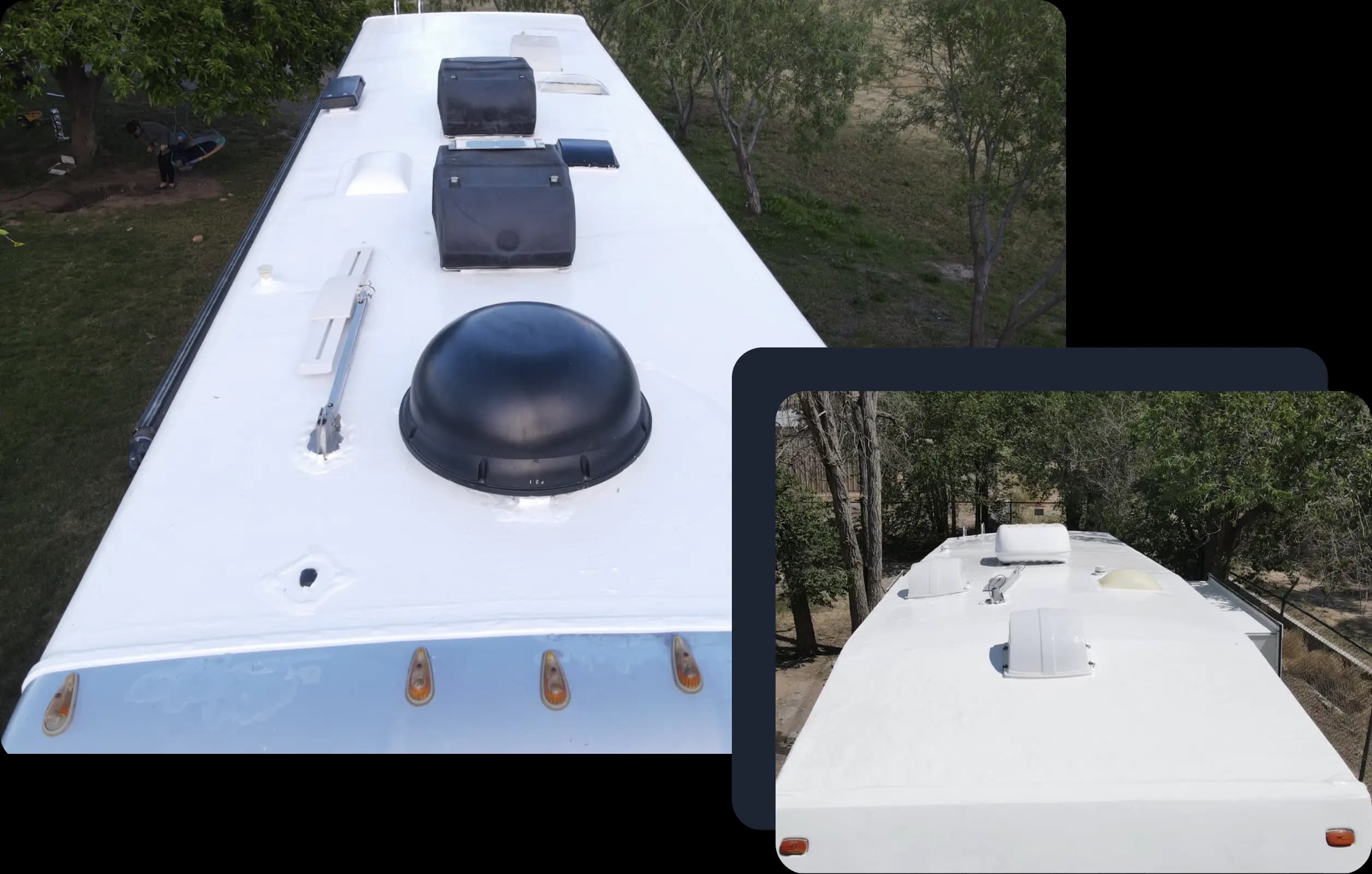 20 Years Of Experience & Premium Materials
We do all RV roof types
TPO
PVC
EPDM RUBBER
FIBERGLASS
Total roof replacement
Coating and resealing
Storm and hail damage repair
Our solutions
Two coats of silicone
Our silicone is a highly flexible and long-lasting material that can adapt to the movement of an RV during travel.
Silicone with reinforced fabric
---
An enhanced solution to promote a more active lifestyle and improve physical durability against mechanical stress.
PVC
A lightweight and durable material that offers excellent resistance to water, heat, and chemicals.
The secret to a long-lasting and hassle-free roof lies not only in using superior materials but also in the proper preparation steps beforehand, and we have the expertise to ensure its success.
High quality silicone
It is a one-component, moisture curing silicone rubber roof coating system designed for use on all type of Rv roofs
---
Resistant to temperatures
Cleans well
NO peeling, cracking and reapplication
Made In USA
Roofing and Insurance Claims
Our deep understanding of both areas allows us to streamline the process, ensuring you get the most out of your insurance claim while receiving top-quality roofing services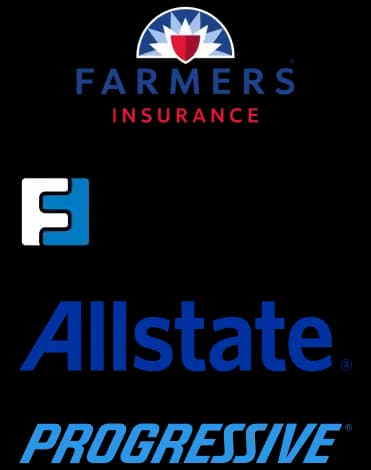 Your benefits
Convenience: Handle all your roofing and insurance needs in one place
Expert Guidance: Leverage our knowledge to maximize your insurance claim
Time-Saving: Avoid the hassle and time-consuming process of dealing with insurance companies on your own
Peace of Mind: Enjoy top-tier roofing services backed by a 20-year warranty, along with hassle-free insurance claims assistance
20 Years guarantee
We provide a guarantee for all the work we carry out. This means that you will completely forget about RV roof leaks
We will come to You
We bring our top-tier RV roofing service directly to your doorstep. Our skilled team will arrive at your location, providing the same high-quality service as you'd get at our facility
RV Roof Repair Near Me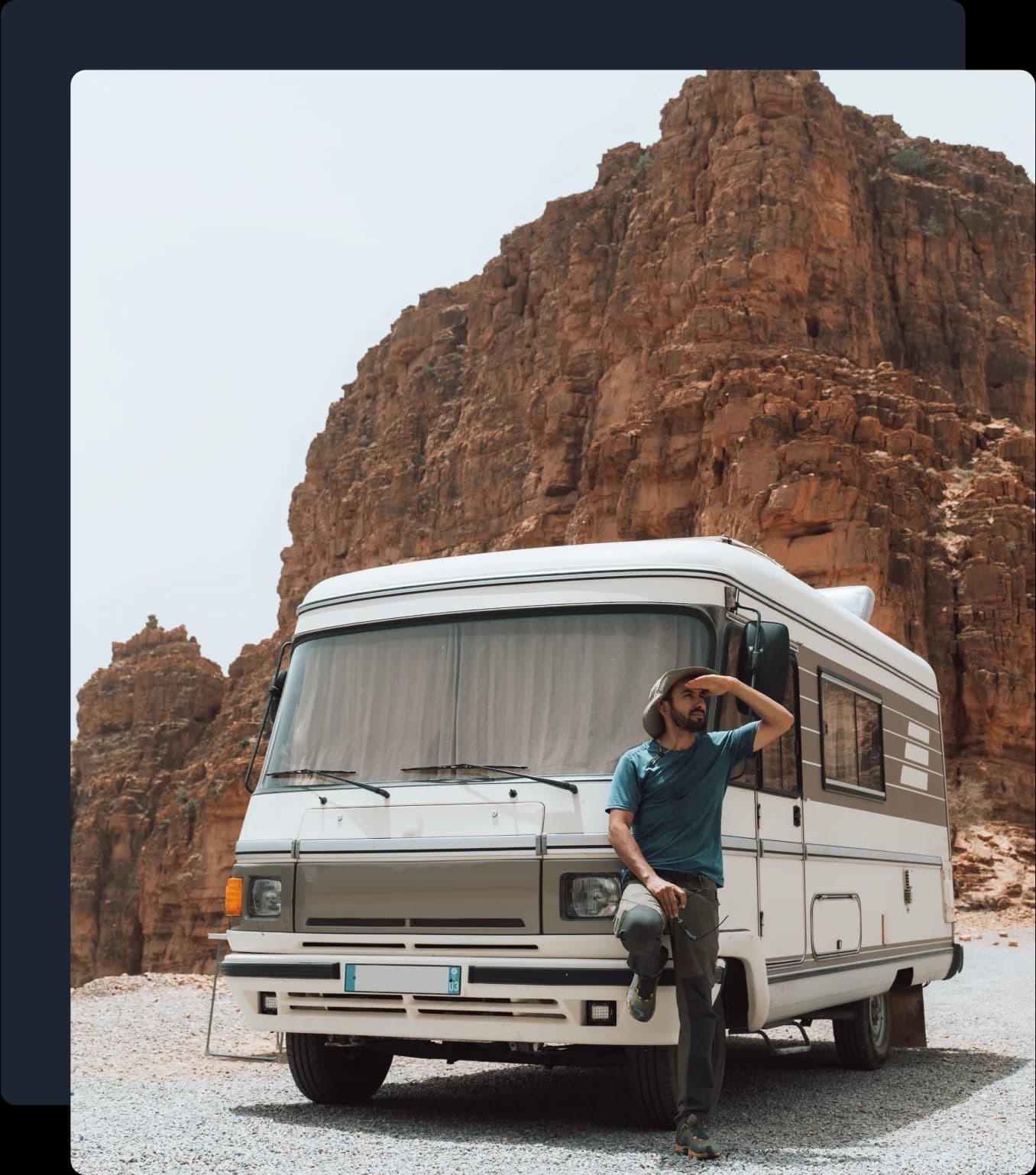 As a result you can get a new RV roof with 20 years warranty in 3 days from $100 per month without leaving home.
This is what we call: "The best RV roofing experience!"
FAQ
What types of RV roofing services do you offer?

How much does it cost to repair, reseal, or replace an RV roof?

How long does it take to repair or replace an RV roof?

What is the warranty on your RV roofing services?

Is my RV roof repair or replacement covered by insurance?

Do you offer financing options for RV roof repairs or replacements?
Locations
Did not find your location? Contact us we will come to you!