We will end RV roof leaks, once and for all
Sacramento
See more locations
Click to get a quote
Repair
Fixing small leaks and sealing seals
Coating
When there are multiple leaks or loose rubber
Replace
When damage extends beyond the rubber, such as rotten wood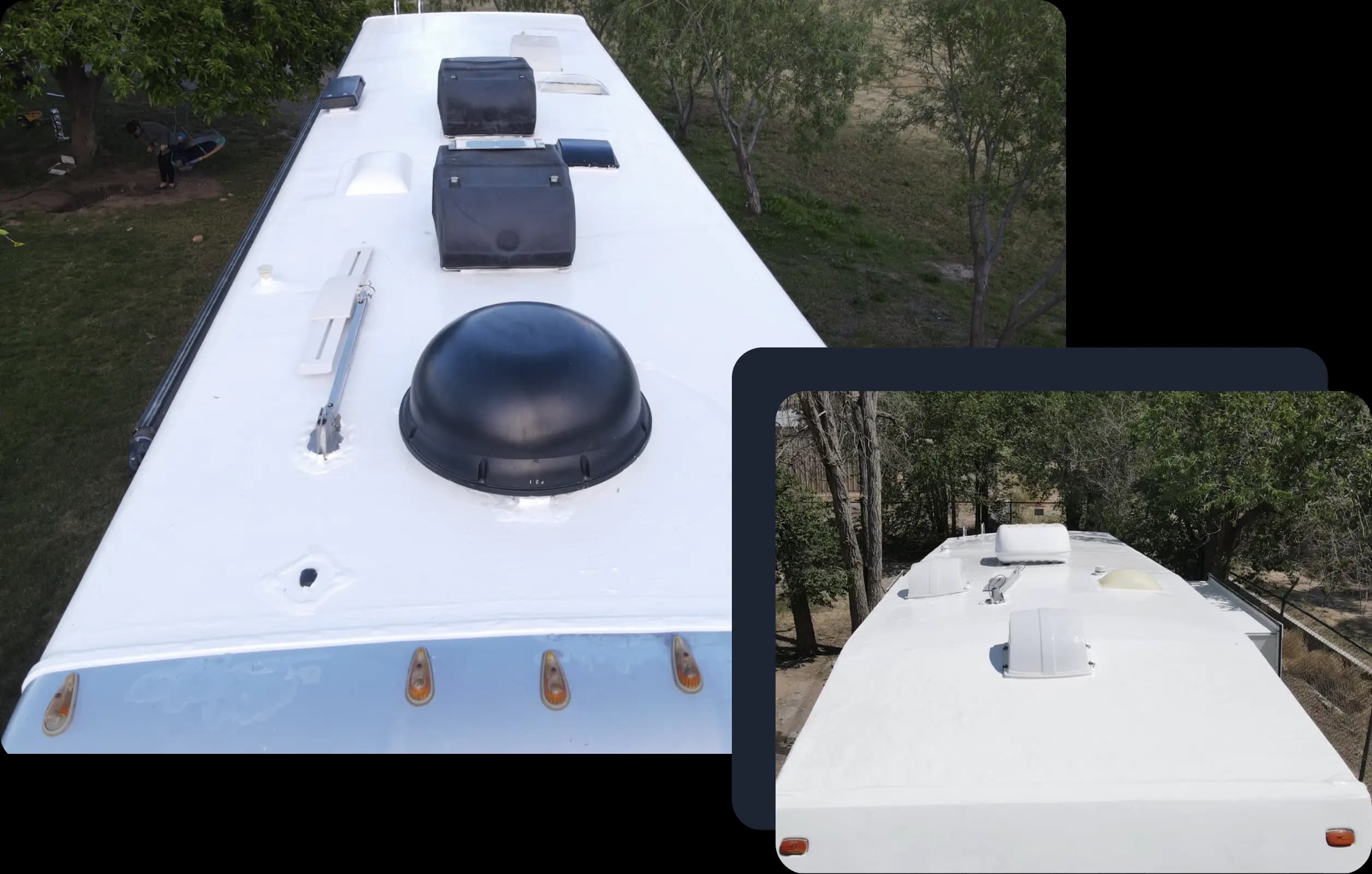 20 Years Of Experience & Premium Materials
We do all RV roof types
TPO
PVC
EPDM RUBBER
FIBERGLASS
Total roof replacement
Coating and resealing
Storm and hail damage repair
Our solutions
Two coats of silicone
Our silicone is a highly flexible and long-lasting material that can adapt to the movement of an RV during travel.
Silicone with reinforced fabric
---
An enhanced solution to promote a more active lifestyle and improve physical durability against mechanical stress.
PVC
A lightweight and durable material that offers excellent resistance to water, heat, and chemicals.
The secret to a long-lasting and hassle-free roof lies not only in using superior materials but also in the proper preparation steps beforehand, and we have the expertise to ensure its success.
High quality silicone
It is a one-component, moisture curing silicone rubber roof coating system designed for use on all type of Rv roofs
---
Resistant to temperatures
Cleans well
NO peeling, cracking and reapplication
Made In USA
20 Years guarantee
We provide a guarantee for all the work we carry out. This means that you will completely forget about RV roof leaks
Reviews

Highly recommended this business. After a record amount of rain this winter, we noticed our 30ft RV had some leaks and we were really concerned! I reached out to Roof Worx and Igor was immediately responsive and helpful. Based on other positive reviews, we decided to take the RV in for a quote. Igor provided a couple options for us, and we were able to get the roof sealed up with a high quality sealant (comes with a warranty!) without breaking the bank. Igor was very friendly and kind and easy to work with throughout. 10/10 great service and quality end result!

RV Roof Worx is the best place to take your RV for service in the area. Their team is knowledgeable, friendly, and always willing to work with you to find the best solution for your RV. Their prices are also more than reasonable, making them a great value for anyone in need of RV service.

I've been to RV Roof Worx several times now and have always been impressed with their service. Their team is professional, efficient, and always willing to work with you to find the best solution for your RV. They've helped me with everything from routine maintenance to major repairs, and I wouldn't trust my RV with anyone else.

Stephen Kimani
a month ago
As someone who's been traveling in an RV for years, I can confidently say that RV Roof Worx is the best place to take your vehicle for service. Their team is experienced, professional, and always willing to go the extra mile to ensure that your RV is in great shape. I've recommended them to several fellow RVers and have only heard positive feedback.

Kathy Brinkley
a month ago
We purchased a 2002 National Sea Breeze. The old girl needed roof work and I called Roof Worx, spoke with Igor and he gave me several options to choose from to repair and seal the roof. He came to our house, looked at the roof and gave us an estimate. Work was scheduled for the following week. Igor and the other gentleman went above and beyond in repairing the roof and applying the seal to our old motor home and we can now enjoy her in all kinds of weather without worrying about leaks! Yay! I highly recommend Roof Worx for any issues you may have with your RV roof! The drone pics were pretty awesome as well!

I called these guys this morning and they were awesome and helped me out with the leaks on the roof of my skoolie. I took some pictures of the cracks on the roof hatch and they called me back with the solution. I really appreciate these guys taking the time to help me out and explain everything and I am looking forward to doing business with them in the near future!

Costumer service was excellent. The workmanship and quality of the new roof was superb. I would recommend them highly.

Jim Montgomery
a month ago
GEAT SERVICE.!!!!!!!!!!!!!!!!!!!!!!!!!!!!!!!!!!! Thy did a great job on my RV ROOF!!!!!!!!!!!!!!!!!!! IGEGOR THE OWNER WAS EASY TO WORK WITH!!!!!!!!!!!!!!!! AND GOOD PERSON!!!!!!!!!!!! J.MONTGOMERY THANK YOU FOR A JOB WELL DONE!!!!!!!!!!!!!!!!!!
We had a leak in our RV roof. We called RV Roof Worx, spoke to Igor and he was very helpful with options. We took it in the next day and he resealed all around our fans, solar, air conditioning and ladder. He removed all the old dicor caulking used silicone with a mesh and silicone again. It lays flat and looks clean. There is a 5 year guarantee on the work. If you need roof reseal or repair give him a call!

Stuart Burke-Jones
11 months ago
When all other RV repair shops couldn't get us in for 5 to 10 days Mike got the work done in a weekend. Went above and beyond to meet our needs. Incredible communication, sent us picture updates while we were away. Would definitely recommend.

Outstanding high quality roof repair. Dmitriy was very good to work with and carefully and thoroughly explained the work that was done. The roof looks better than new.

I'm very happy with the quality and price. Salesman Mike was outstanding throughout the whole process. Rest of the team lacked any communication. Because of Mike, I would reccomend.

Rv Roof Worx did a great job repairing fiberglass membrane and resealing the whole roof over 35' Winnebago. 20 years warranty on materials and 20 years on labor which is unheard of. Awesome job on the camper roof! Great service and reasonable price.

These guys are great! Pleasure to work with. Mike is awesome, knowledgeable and professional. The RV roof they did looks fantastic! Thank you guys!
Recent works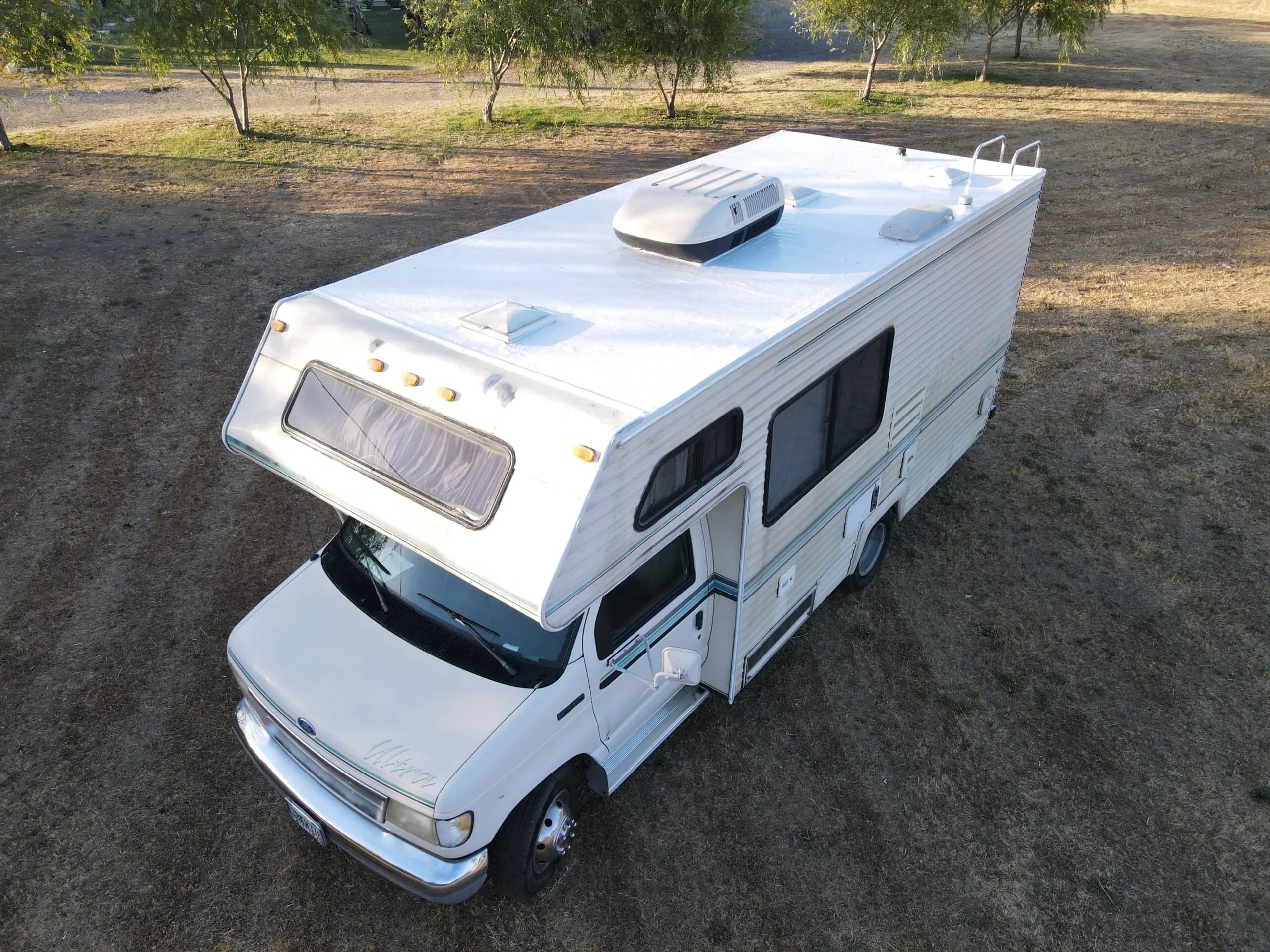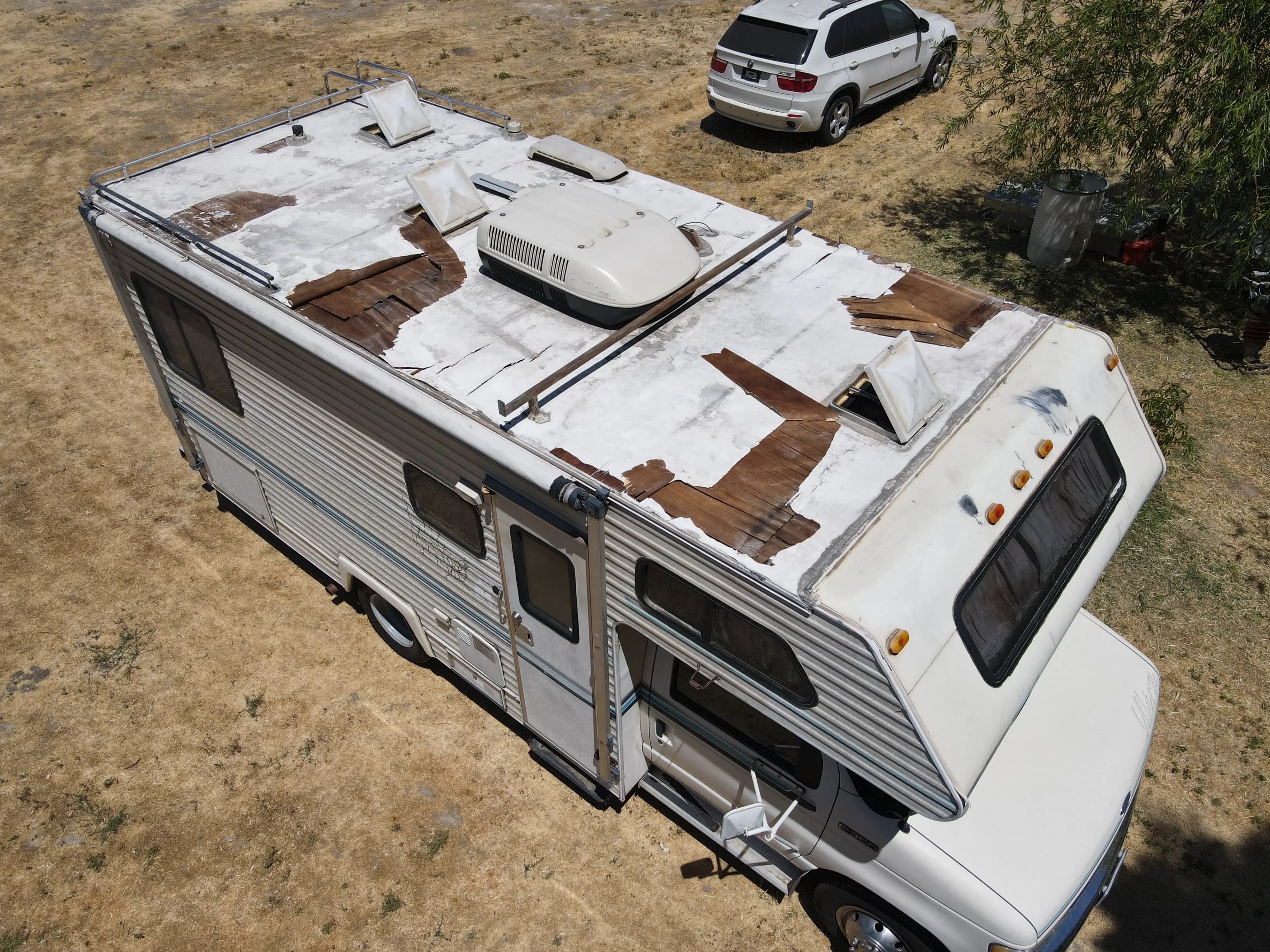 Replace whole deck
In This 20' Rv we had to completely remove not only the roof membrane but also the whole deck itself and replaced it with a new one. The owner of the RV chose the Silicone Sandwich option (Silicone + Reinforced Fabric + Silicone). Really a bulletproof roof that would last way over 20 years. The job was finished within 3-4 day for $6500 total cost.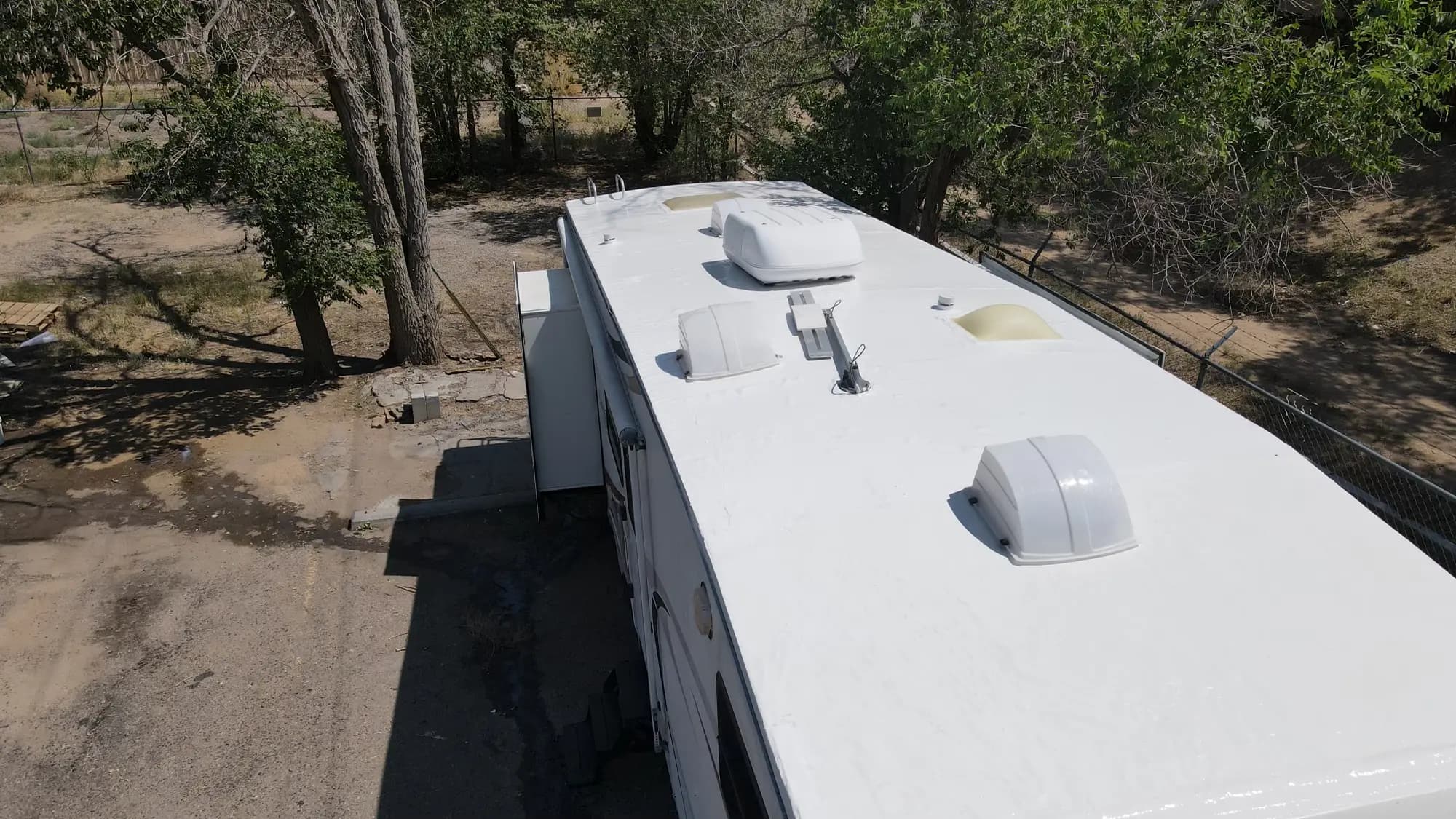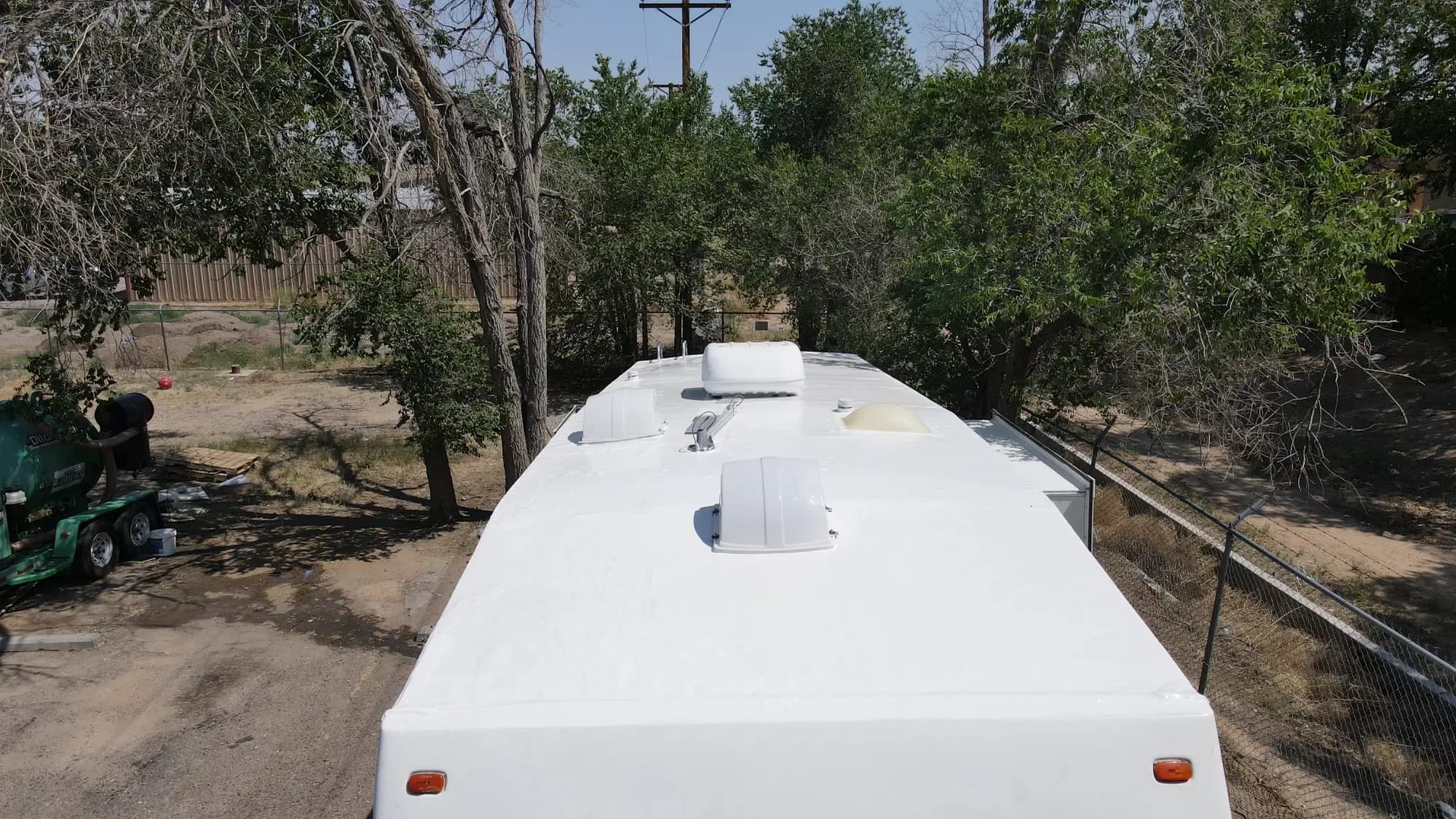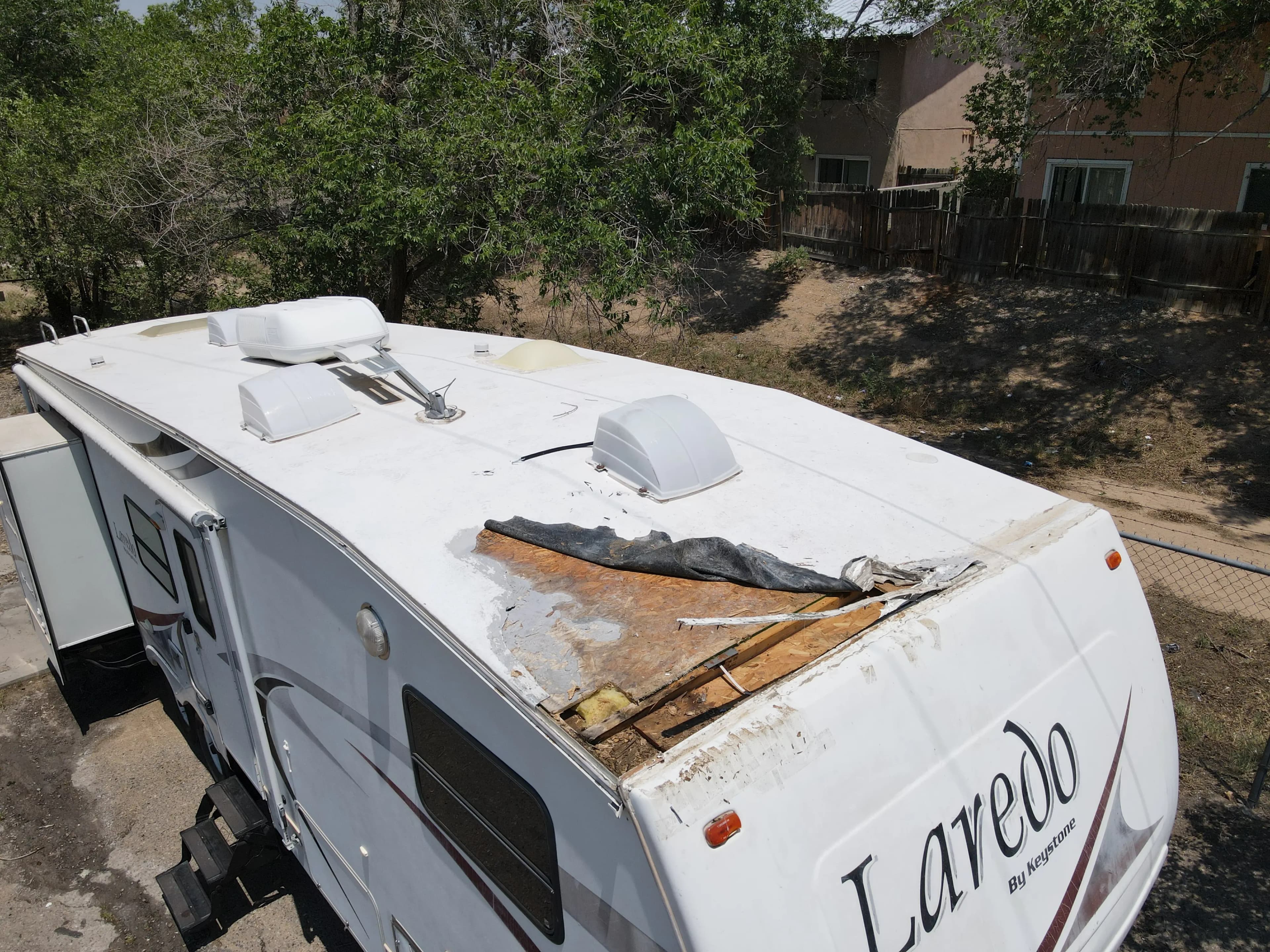 Damage edge from tree
The client brought the RV with a damage edge from tree branches. Partial roof membrane was removed and replaced and the whole roof was coated with a 20 year warranty Silicone. The repair and coating cost for a 37' RV roof was $4200 and the job was done in 2 days.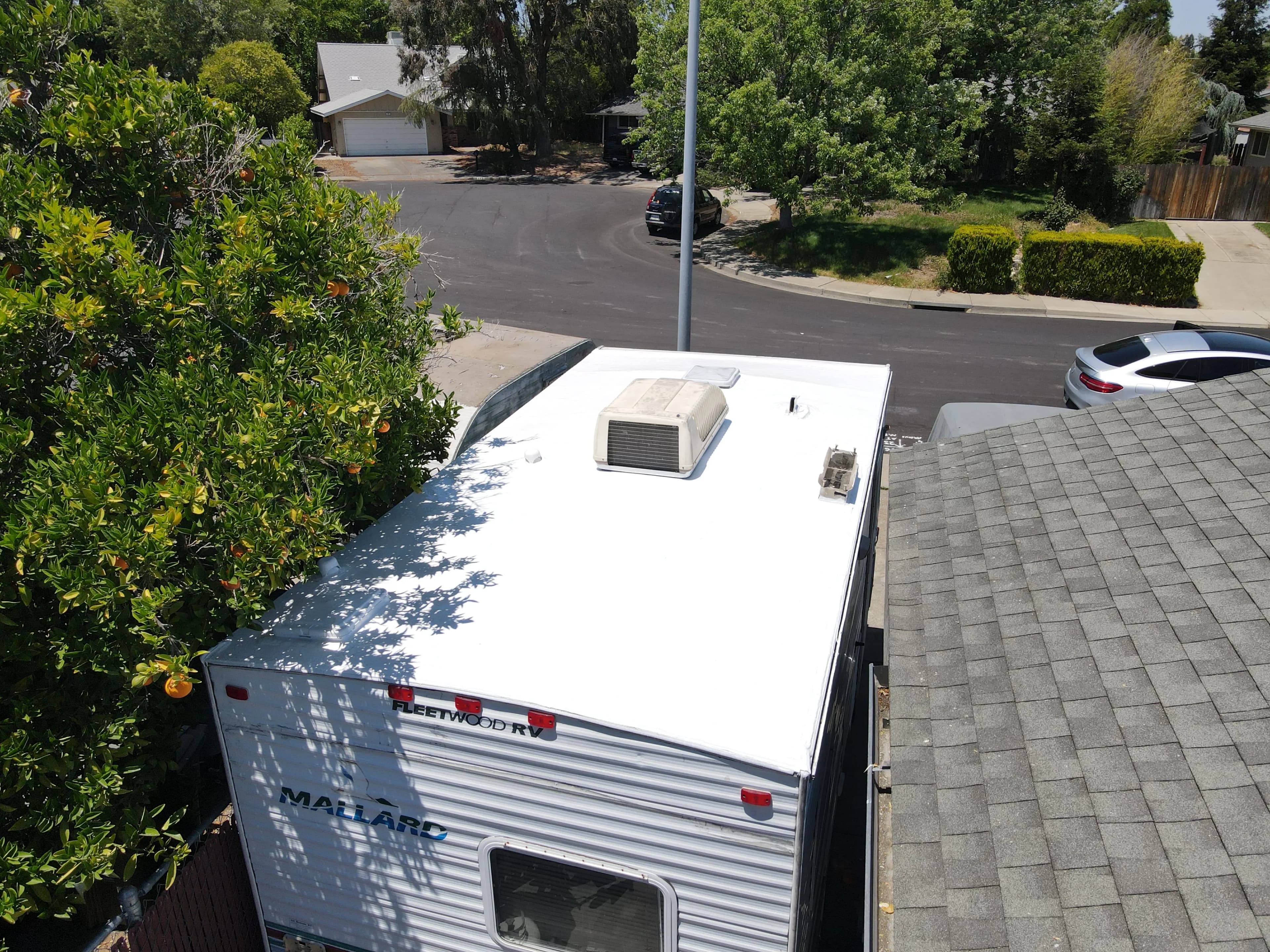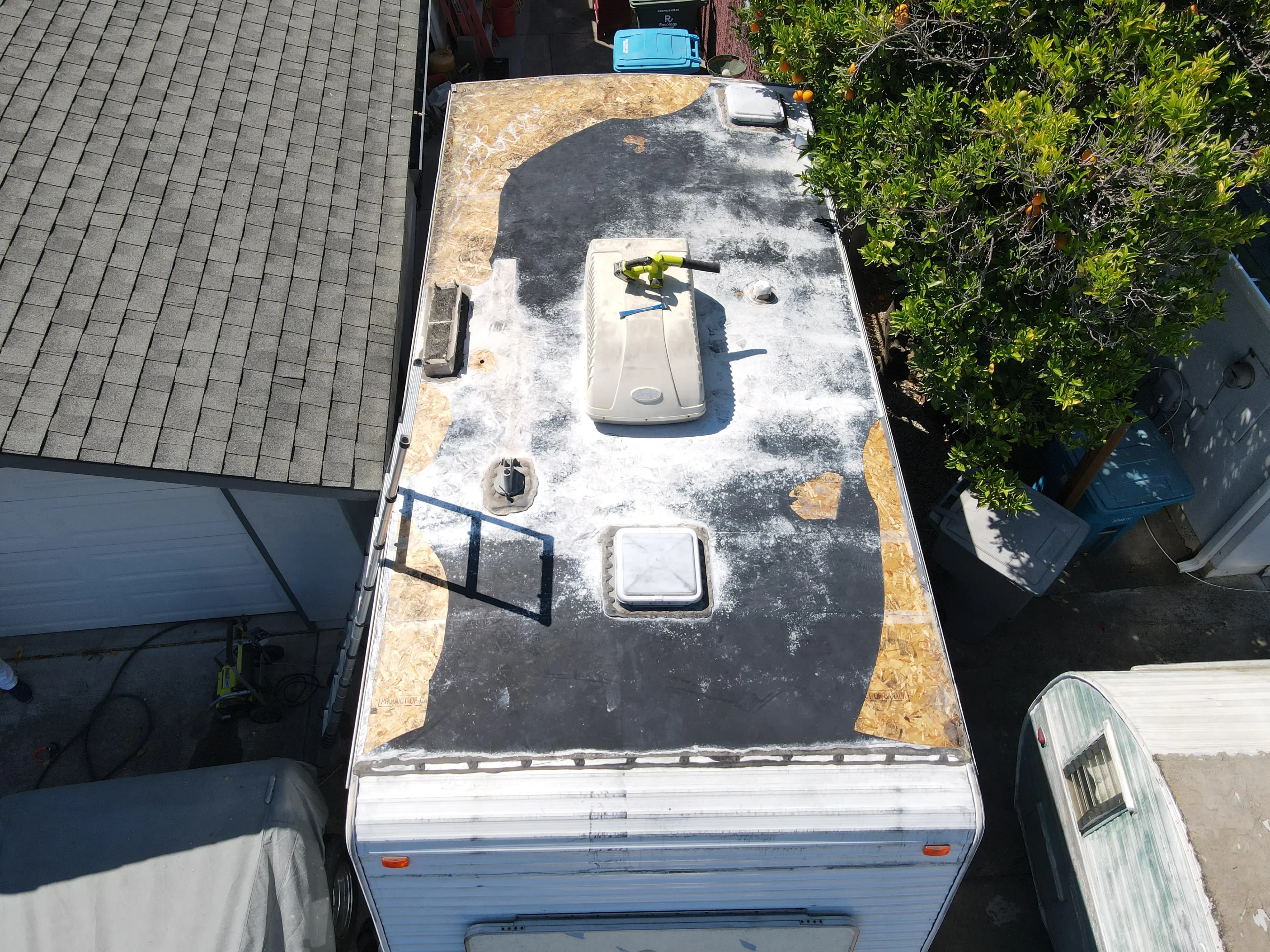 Two layers of Silicone and Reinforced fabric
The existing roofing membrane was separating on edges and had to be removed. Silicone + Reinforced fabric was applied with two layers of silicone coating on top. The job was done in one day with a $2500 cost.
Before and after
Simply slide the center bar left or right to compare the before and after differences.
As a result you can get a new RV roof with 20 years warranty in 3 days from $100 per month without leaving home.
This is what we call: "The best RV roofing experience!"
If you have any questions please contact us
FAQ
What types of RV roofing services do you offer?

How much does it cost to repair, reseal, or replace an RV roof?

How long does it take to repair or replace an RV roof?

What is the warranty on your RV roofing services?

Is my RV roof repair or replacement covered by insurance?

Do you offer financing options for RV roof repairs or replacements?
Locations
Did not find your location? Contact us we will come to you!